One Google employee has his daughter to thank for scoring him a week's worth of summer vacation.
A letter sent from the little girl to the Internet giant asked that they provide her father with a day off to celebrate his birthday.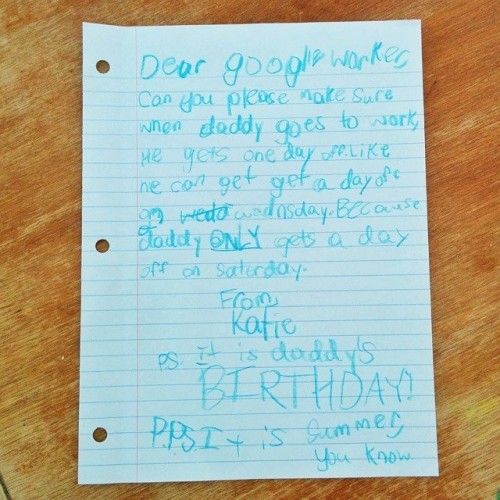 Source: Imgur
The letter reads:
Dear Google Worker,
Can you please make sure when daddy goes to work, he gets one day off. Like he can get a day off on Wednesday. Because daddy only gets a day off on Saturday.
From, Katie
P.S. It is Daddy's BIRTHDAY
P.P.S. It is summer, you know
In a letter back to Katie, her dad's boss, Senior Design Manager Daniel Shiplacoff, not only complimented Katie's dad on his hard work, but also gave him a bonus week off. Since it is summer, after all.
Source: Imgur